Popular cities in South Korea
1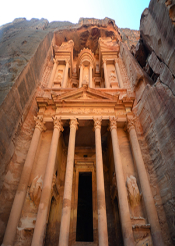 About South Korea
South Korea has its capital in the city of Seoul. The best time to visit South Korea is in autumn and spring which is usually from April to June, here the weather is clear and warm.
South korea has four distinct seasons; summers are short, hot and humid and lasts from July to August; Autumn warm and refreshing and lasts from September to November; winters are very cold, snowy and dry and last from December to March; spring lasts from April to June.
Culture in South Korea is greatly influenced by Japanese and Chinese cultures, and these influence can be seen in Confucianism which has created many traditions in Korea today. Buddhism is the major religion practised in South Korea today, but there are also smaller religious groups like Confucianism, and Christianity.

Food in South Korea is usually based on common foods like rice, noodles, meats, and vegetables. Korean is the major language spoken in South Korea but English, Chinese, and Japanese are also common.
Moving around South Korea is relatively easy and affordable by North American standards, the country has an extensive domestic air network, and there are numerous ferries that connect the country's islands and major destinations, buses and taxis are also available with friendly drivers and metro information in Korean and English, car rentals are also available and other public transport are available and comfortable include subways and train transportation.
South Korea is a safe country and the rate of violent crimes and homicides are very low, but due to the increased number of tourists it is advise to take precautions when in South Korea. Seoul is one of the most popular and visited cities in South Korea filled with attractions and ultra modern buildings, it is one of the best places to visit and stay when in the country.
South Korea is home to many wonderful festivals and events including; Jaraseom Singsing Winter Festival - This is held every January at the banks of the GapYeongcheon Stream, and its attractions includes trout fishing, sleigh riding, and ice skating; Jeju Cherry Blossom Festival - This is celebrated on the Island of Jeju in April, the festival features the street being flanked by trees, and also many other cultural activities; Taebaek Sunflower Festival - This lasts from July till Mid-August at Gangwon-do Province in the village of Guwau.
South Korea is home to a lot of fascinating sights and attractions, some of these include:
Seoul - The capital city of South Korea, Seoul is known to be the most visited city in South Korea and is home to a handful of tourist attractions including; the Changdeokgung Palace, Bukchon Hanok village, Lotte World amusement park, and N Seoul Tower for panoramic views.
The Korean Demilitarized Zone (DMZ) - This is one of the most popular places to visit in South Korea, it offers tourist with a better understanding of the conflict between North and South Korea, the area is full of interesting sites including; Dorasan Station & Observatory, and the Freedom park.
Jeju Island - This island is located about 84 km from the coast of South Korea, and is known to be one of the most beautiful places in the country, its beautiful scenery filled with white sand beaches, pine forests, lava caves and volcanic craters offers a natural paradise to visitors and tourists.
Gyeongju - Often called the open-air museum, Gyeongju is one of the best places to discover the rich heritage and traditional roots of South Korea.
Busan - This is the second largest city in South Korea, and is also known to host Asia's largest film festival. The city offers beautiful beaches, historic and excellent Buddhist temples and even majestic Mountains. Along the coast is the Haedong Yonggungsa temple which is one of the most visited places in Busan along with the Jagalchi fish market.
There are over 18,000 hotels and accommodations in South Korea to choose for your comfort and luxury.

For South Koreans looking to travel out of the country. You can check out the list of destinations, how to Get South Korea visa to those countries, Embassies in South Korea and Visa Free Countries for South Korean passport holders
Common Questions Travellers Ask About South Korea
Is it necessary to learn Korean?
It is possible to get by in Korea without knowing Korean, but it is advised for travellers or tourists to know some of the basics and the Korean culture to enjoy your stay in the country.

---
Is South Korea safe and what is the situation with North Korea?
South Korea is known to be very safe, but it is advise to be precautious when in the country as some petty crimes like pickpocketing is not uncommon in some major cities. The situation with North Korea is tense, very unlike to escalate as South Korea is committed to keeping the peace with its neighbouring countries.
---
Which is the best city to live in?
Seoul is known to be the best city to live in for tourist and expats.
---
Is Jeju- Island accessible by ferries?
Yes, ferries are available for transporting multiple passengers to and from the Island.
---
Who can I call for help if I am in an emergency situation while in Korea?
For transportation emergencies and interpretation services you can call 1330, operated by the Korean tourism organisation; for medical emergencies you can call 1339, and you will be connected to the nearest hospital; and you can call the police by dialing 112 or the fire service department 119.
---