Popular cities in Belize
1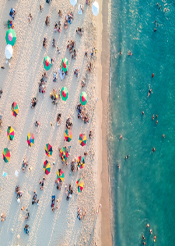 For Belizeans looking to travel out of the country. You can check out the list of destinations, how to Get Belize visa to those countries, Embassies in Belize and Visa Free Countries for Belizean passport holders
Common Questions Travellers Ask About Belize
Q. What is Belize's official language
---
Q. Can visitors in Belize drink the tap water?
A. The locals in Belize drink the tap water and the water is generally safe for consumption. However, to assuage any misgivings, visitors may use bottled water instead.
---
Q. Is Belize safe to visit?
A. Belize is a relatively safe country mostly owing to how small it is. However, violent crimes are not unheard of amongst the locals and you should be on your guard whilst visiting.
---
Q. Is Belize prone to natural disasters?
A. Belize is prone to floods and has some serious hurricane risks. In fact, it is best to stay away from the country during the rainy season. The hurricane season is from July to November.
---
Q. What unit of currency is accepted in Belize?
A. The official unit of currency in Belize is the Belize dollar. However, the U.S dollar is widely accepted and can be exchanged in the country.
---
Q. Do I need a passport for entry into Belize?
---