Popular cities in Turkey
1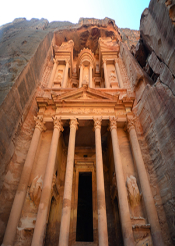 About Turkey
Turkey's population is 79.5 million and has its capital in Ankara. Summer season in Turkey is the best season for visiting Turkey to experience warm temperatures, swimming and sun bathing from June to August. Winter season in Turkey however, from December to February is rainy and snowy, with occasional cold but sunny days, where tourists engage in skiing and other winter sports. The Turkish Lira is the official currency of Turkey.

Turkish tradition and customs have been drawn from elements in European and the middle Eastern civilizations to form its own culture and is still visible in the country's landscape. Turkish cuisine includes many different stews of vegetables and lamb or beef; primarily 'borek', 'kebab' and 'dolma'. The official language of Turkey is Turkish.

With a host of airlines to fit your budget and schedule, Turkey is easy to navigate by plane and car-rental services. There are luxurious and European standard bus (or coach) services, with wireless Internet service and light refreshment at no extra cost. Most of Turkey is safe for foreigners and travellers as there is a lot of tourist activity during the Summer and Winter seasons.

Festivals and notable events include;

-The Istanbul Film Festival : a 10-day long event celebrates the best of national and international film with awards given to documentaries made in Turkey.

-Sun Splash Festival : this music festival started in 2009 and is held in Bodrum showcasing international jazz, soul, funk and bossa music.

-The Side Culture and Art Festival : showcasing a number of world famous orchestras, musicians and dancers, this summer festival takes place in the city of Side with free, open-air concerts.

-Ramadan : as a predominantly Muslim country Turkey observes the Islamic holy month of Ramadan with 30 days of fasting.

-Republic Day : the Republic of Turkey holiday which holds every 23rd of October.

Destinations in Turkey include;
-The Patara beach in Patara City. Tourists love the warmth and the surfable waves.
-The beach resort town of Kusadasi is the most visited cruise port of Turkey.
-The resort town of Bodrum is one of the most attractive points for cruise ship passengers (The Bodrum Peninsula)
-Buyukada Island is the largest of the Princes' Islands, also the farthest from Istanbul, welcomes its visitors with a very enjoyable atmosphere.


For Turkishes looking to travel out of the country. You can check out the list of destinations, how to Get Turkey visa to those countries, Embassies in Turkey and Visa Free Countries for Turkish passport holders
Common Questions Travellers Ask About Turkey
Are Euros accepted in Turkey?
Yes, Euros are accepted, as Turkey is closely linked to Europe.

---
Is Turkey safe for tourists?
Yes, Turkey is safe for travellers from all over the world, as there were 32.4 million foreign tourist arrivals in Turkey in 2017.
---
Is Turkey in Europe or Asia?
Turkey, by land mass, is positioned 95% in Asia and 5% in Europe.
---
Is Ankara or Istanbul the capital of Turkey?
Ankara replaced the former Turkish capital Istanbul on 29 October 1923.
---
Is July a good time to visit Turkey?
July and August are the hottest months in Turkey. The best periods to visit are; late April to June and September to October.
---
What is Turkey's national food?
Lamb is the basic meat of Turkish kitchen, grilled over charcoal to create the tasty 'kebab'
---